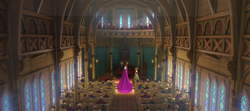 The chapel is part of Arendelle castle, located in the vicinity of the courtyard.
History
On the day of her coronation, Elsa made her way to the chapel to be crowned and ordained by the bishop. Beside her at the front of the chapel were Anna and the bishop. Various personages from other countries gathered in the structure to witness the ceremony, including Prince Hans of the Southern Isles, the Duke of Weselton, and the dignitaries. Prior to her crowning, the chapel choir gathered high above the pews to sing in Elsa's honor.
Description
At the front of the chapel is an altar with candles placed upon it. Posterior to the altar is a large screen, next to which is a large chair. A central carpeted aisle runs from the back of the chapel to a set of steps leading to the altar. On both sides of the aisle are rows of pews. High above the altar is a balcony upon which the chapel choir assembles.
The walls of the chapel are made of carved wood, and a series of pillars run up the sides to form arches overhead. Several tall stained-glass windows line the walls to allow the passage of light into the structure. Rosemaling designs are featured throughout the chapel interior.
Trivia
The Norwegian village of Balestrand provided inspiration for the chapel.[1]
The chapel is also referred to as the "royal cathedral".[2]
References
Community content is available under
CC-BY-SA
unless otherwise noted.