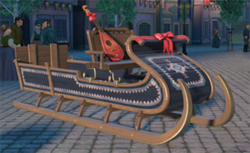 Kristoff uses a sled as his primary mode of transportation. The sled is used to haul ice to Arendelle and is drawn by Sven.
History
When Kristoff was a child, his sled was essentially a platform capable only of carrying a single block of ice. But by the time the ice harvester was 21,[1] he had not only acquired a full-sized sled, but also finished paying it off. The sled went on its last journey during Elsa's winter after Kristoff agreed to take Anna to the North Mountain. After being chased by wolves, Anna, Sven, and Kristoff were forced to abandon the sled as it approached a gorge. Without Sven pulling, the sled lost momentum mid-air and crashed into the gorge below, bursting into flames upon impact. Sorry for Kristoff's loss, Anna promised to reimburse the ice harvester.
Following summer's return to Arendelle, Anna fulfilled her promise by purchasing the latest sled model for Kristoff.
The sled was later used by Olaf and Sven when they decided to be Arendelle's substitute ice master and deliverers.[2]
When Olaf set out to find traditions for Anna and Elsa, he used the sled to transport the items he had gethered. However, the sled was later destoyed when it caught fire and fell into a gorge.
Trivia
The first sled could be fitted with wheels.
Kristoff chastised Anna placing her feet up on the front of the sled, saying that it had a coat of "fresh lacquer".
According to Anna, the new sled came with a cup-holder.
In Frozen: Book of the Film, Kristoff purchased a new sled at the time of Elsa's coronation, just before he headed off from Arendelle and into the mountains.[3]
References