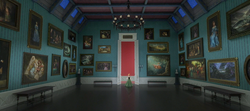 The portrait room[1] is a large room that displays a multitude of paintings mounted on the walls.
History
Anna spent a lot of time in the portrait room, especially during her younger years. In order to cope with the loneliness caused by Elsa's refusal to play with her, she often spoke to the pictures on the walls. On the day of Elsa's coronation, Anna bounced around the room and interacted with the paintings while expressing her excitement at the chance of finding romance.
In celebration of Anna's nineteenth birthday, Elsa had a picture of their new family hung in the room.
Description
Access to the portrait room is provided by a pair of tall white doors. The room itself is a large open space with a series of benches and tables located around the perimeter. In addition to the pictures, the room is also decorated by two small statues standing at the corners of the room and a chandelier hanging from its ceiling. The roof is partially slanted at its sides; these slanted areas of the ceiling are adorned with blue panels bearing rosemaling patterns. Wooden beams run throughout the ceiling's length.
Notable paintings
Joan of Arc
Lady on a Swing
Family portrait
Trivia
Prior to Elsa's coronation, the portrait room also had several benches in the center of the room.
References
Community content is available under
CC-BY-SA
unless otherwise noted.