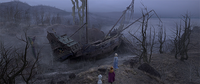 The
Royal ship
was a ship specifically used by
Agnarr
and
Iduna
in for journeys of royal business.
History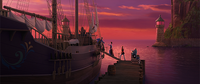 The king and queen used the vessel in their search for the source of Elsa's magical powers. Under the guise of an official visit crossing the Southern Sea, the couple in fact used the ship to head north of Arendelle with the intention of crossing the Dark Sea to reach Ahtohallan. However, the ship became overwhelmed by aggressive waves, resulting in the deaths of the king and queen.
The ship was swept in-land and became marooned in a dried estuary. The ship lay there for some time, until Agnarr and Iduna's daughters, Elsa and Anna, discovered the wreck. Olaf realised the ship must be empty, only being able to pass through the mist with no one aboard. Exploring it, the sisters discovered a map with a route to Ahtohallan in the ship's waterproof compartment. Elsa used her powers to see the memory of the water still onboard to learn how their parents had died.
Community content is available under
CC-BY-SA
unless otherwise noted.