m

Line 9:
Line 9:
 

[https://twitter.com/SantinoFontana Twitter]<br />

 

[https://twitter.com/SantinoFontana Twitter]<br />

 

[[wikipedia:Santino_Fontana|Wikipedia]]

 

[[wikipedia:Santino_Fontana|Wikipedia]]

−

}}'''Santino Fontana''' (born 1982) is an American stage actor, composer, and director. He voiced [[Hans]] in Disney's ''[[Frozen]]''. He has been on Broadway and a web series. ''Frozen'' is his first time working in a movie and his first voice acting role.

+

}}'''Santino Fontana''' (born 1982) is an American stage actor, composer, and director. He voiced [[Hans]] in Disney's ''[[Frozen]]''. He has been on Broadway and a web series. ''Frozen'' is his first time working in a movie and his first voice acting role.

 
 
 

Also in 2013, Fontana played the lead role of the Broadway adaptation of Rodgers and Hammerstein's Cinderella. He plays Prince Topher.

 

Also in 2013, Fontana played the lead role of the Broadway adaptation of Rodgers and Hammerstein's Cinderella. He plays Prince Topher.

Line 28:
Line 28:
 

From 2011 through 2012, Fontana played Aaron Miller in the comedy web series ''[[Wikipedia:Submissions Only|Submissions Only]]''. The series is about the casting and the audition process of Broadway, and revolves around the character Penny Reilly and her friend, family, colleagues, and a casting director and his circle of friends. He plays Aaron Miller, a talented but blasé actor. His character is often Penny's love interest.

 

From 2011 through 2012, Fontana played Aaron Miller in the comedy web series ''[[Wikipedia:Submissions Only|Submissions Only]]''. The series is about the casting and the audition process of Broadway, and revolves around the character Penny Reilly and her friend, family, colleagues, and a casting director and his circle of friends. He plays Aaron Miller, a talented but blasé actor. His character is often Penny's love interest.

 
 
−

In 2013, Disney released their new new animated feature, ''[[Frozen]]''. Fontana plays the villain, [[Hans]] in the movie. For his audition for the role, he sang ''I Feel Pretty'' from ''[[Wikipedia:West Side Story|West Side Story]]'', but he tweaked the lyrics in a boastful, yet comical way.

+

In 2013, Disney released their new new animated feature, ''[[Frozen]]''. Fontana plays the villain, [[Hans]] in the movie. For his audition for the role, he sang ''I Feel Pretty'' from ''[[Wikipedia:West Side Story|West Side Story]]'', but he tweaked the lyrics in a boastful, yet comical way.

 
 
 

== Trivia ==

 

== Trivia ==
---
Revision as of 19:23, 22 July 2015
Santino Fontana
Biographical information

Full name

Santino Fontana

Born

March 21, 1982

Gender

Male

Further information

Role in Frozen

Voice of Hans

External links
Santino Fontana (born 1982) is an American stage actor, composer, and director. He voiced Hans in Disney's Frozen. He has been on Broadway and a web series. Frozen is his first time working in a movie and his first voice acting role.
Also in 2013, Fontana played the lead role of the Broadway adaptation of Rodgers and Hammerstein's Cinderella. He plays Prince Topher.
Career
Fontana's earliest stage credits (not including Broadway) include Six Degrees of Separation, Hamlet, The Fantasticks, and Noel Coward's Hay Fever.
Broadway
Fontana made his Broadway debut in 2007 in the musical, Sunday in the Park with George. He played multiple roles: Alex, Bather, and a soldier. He understudied the part of George for the first two acts. He also played the following Broadway roles: Tony Elliot, from Billy Elliot the Musical; Stanley Jerome, from Brighton Beach Memoirs and Broadway Boundrevival; Rodolfo, in A View From The Bridge; and Algernon Montcrieff in the revival of The Importance of Being Earnest.
In Broadway, Fontana is probably best known for his role in the 2013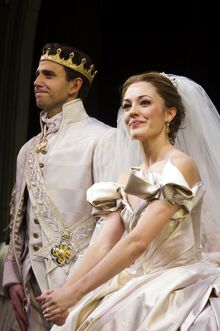 Broadway production of Rodgers and Hammerstein's Cinderella. He plays Prince Topher in the production. On December 16, 2014, he will go on tour with the production.
Other Credits
Besides the stage, Fontana has been in a web series and Disney's Animated Feature, Frozen.
From 2011 through 2012, Fontana played Aaron Miller in the comedy web series Submissions Only. The series is about the casting and the audition process of Broadway, and revolves around the character Penny Reilly and her friend, family, colleagues, and a casting director and his circle of friends. He plays Aaron Miller, a talented but blasé actor. His character is often Penny's love interest.
In 2013, Disney released their new new animated feature, Frozen. Fontana plays the villain, Hans in the movie. For his audition for the role, he sang I Feel Pretty from West Side Story, but he tweaked the lyrics in a boastful, yet comical way.
Trivia
Fontana had an unusual audition for Frozen. He sang "I Feel Pretty" from the musical West Side Story for his audition, though he altered the lyrics. Of this, he quotes, "So basically, all that they told me about the character was he's super confident, perhaps overly confident, he needs to be able to sing with a 'Broadway sound' and he's really good with women, but he may have a dark side. I came into the sound studio and I was very nervous and I sang this."[citation needed]
Fontana sang live with his co-star, Kristen Bell at a private event. They sang "Love is an Open Door".
References
Community content is available under
CC-BY-SA
unless otherwise noted.